First Article Inspection Overview
First Article Inspection (FAI) consists of a detailed verification and comparison of a requirement (product design) versus results (production result). A supplier needs to do a First Article Inspection due to its industry requirements like AS9102 or customer requirements before the manufacturing process begins.
A first article is the first item that is manufactured using the same production processes as mass production by any subcontracted factory or supplier.
So that the client can validate how the supplier is capable of producing parts, and assemblies that meet all engineering and design requirements on a mass scale.
Once a new or revised part is manufactured on the first production run, it is necessary to ensure that all requirements (such as the specific drawings and specifications) have been met by inspecting a random sample of the first production run. This is called "First Article Inspection (FAI)".
In First Article Inspection, many organizations inspect every single dimension and specification of this sample against the drawing, as part of the detailed verification of production results versus product design, before the manufacturing process begins.
Below is an example of the First Article Inspection Process Flow. First Article Inspection is conducted during the first production run. If you find something, not 100% compliant to requirement, you need to take the corrective action.
Download Free First Article Inspection AS9102B Template & Input Guide
To validate that a product has been manufactured to the correct specification, First Article Inspection Report (FAIR) consists of 3 forms (form 1 Part number accountability, form 2 Product accountability and form 3 Characteristic accountability) plus 1 ballooned drawing.
The necessity of fields to be filled out depends on filed color:
• Yellow - Required fields
• Blue - Conditionally required fields
• No color (white) - Optional fields
Form 1: Part number accountability – this form is used to summarise the part of the article that is being first inspected (FAI part) and associated sub-assemblies or detail parts.
Download Free First Article Inspection AS9102B Template & Input Guide
Form 2: Product accountability – is used for all raw materials, specifications, processes and functional tests defined as a design requirement.
Form 3: Characteristic accountability – is used to summarise actual specific design characteristics such as dimensions, tolerances, drawing notes, etc. as well as actual measurement results of the first article inspection parts for every design characteristic on the drawing.
Balloon Drawing (also called Bubble Drawing) – is an essential part of a First Article Inspection Report package to support Form 3 and to verify every design characteristic requirement. In this drawing, each design characteristic has its own uniquely numbered balloon. For traceability purposes, this number needs to match with the characteristics numbers on Form 3. However, creating ballooned drawings and first article inspection reports by hand is time-consuming and labor-intensive.
(To solve this problem, we offer our
Auto Ballooning Software, QA-CAD
which helps you to create a First Article Inspection Report EXCEL file and a ballooned drawing file instantly.
Please click here to view its details.
To speed up your first article inspection report paperwork drastically, this auto ballooning feature is essential.
This auto ballooning feature can not only add balloons next to all dimensions but also extract all selected dimensions and GD&T feature control frames at once and export captured data to a first article inspection report EXCEL file.  Our QA-CAD software has a more accurate and faster auto ballooning feature for PDF files.)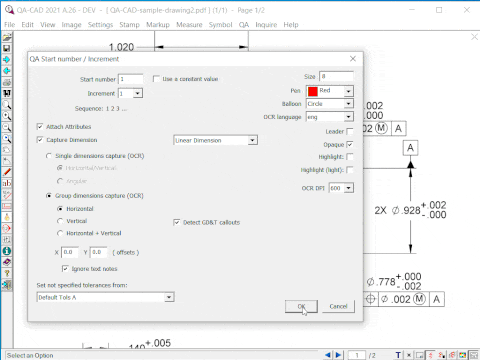 Once all designs and production processes have been finalized, a full FAI must be performed on the first production run. On the other hand, partial FAI should be executed when there is any change in the design or manufacturing process that affects the fit, form or function of the product.
Full FAI is necessary when one of the following occur:

• New part introduction
• New supplier or new location of manufacture
• When this part has not been manufactured for more than 2 years
• When the customer requested


Delta FAI (Partial FAI) is necessary when one of the following occur:

• Design change which can potentially affect fit, form or function
• Production process change (e.g. tooling, materials, processes, inspection method, machine, NC program, product manufacturing process, etc.).
• Change to a different media program that can potentially affect fit, form or function